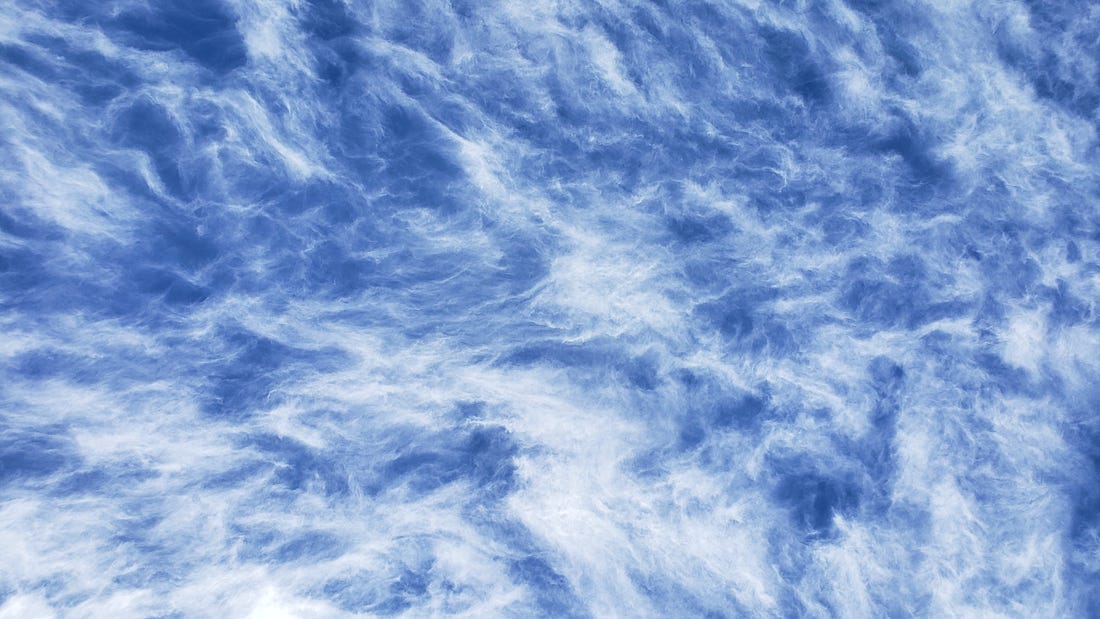 (The image is of the sky one afternoon on the Coal Oil Point walk.)
Greetings from Anisq'Oyo Park in IV. I've spent two weeks deleting photos. Then half a week figuring out how best to share the photos. Naturally there's no best way. And then another week writing and revising this.
After Kernville, the last update on May 19, Andrea and I walked over to Kennedy Meadows South (which is on the PCT) and then back to Kernville, but over Sherman's Pass, with three hitches. Each hitch is a different world. I don't really like it. But they are memorable. Hitching is easier with Andrea than as a solo guy, generally.
Number one was with an ex-construction now tex-mex restauranteur & school administrator couple on the way to their cabin, where they harvest mesquite for their barbeque. Number two was a short one in the back of a USFS truck, and the driver told us how to find a yurt with a wood stove to stay in that chilly night. Number three was with a Bordelais bicycle enterpreneur who drives mountain bikers from LA up to Cannell Meadows and other trail heads, Xavier of Crazy Bear Bikes.
Then we went up to Alta Sierra from Wofford Heights, with two hitches. The first with some perhaps drug-damaged but friendly women in a convertible, via the lair of the buff and shirtless drug lord with a friendly pitbull who was interrupted by our arrival while having sex and wasn't happy about that. Our driver said he owed her rent. The second with a Hispanic family who squeezed in even tighter to pick us up and fed us too when we got to the top.
Then we walked to Camp Nelson through a forest partially closed because of fires and logging. On the way we met two German doctor cyclists: Laura and Christina. And a European guy cyclist, Dutch maybe, also on some stage of a world tour, but we only saw him once.
At the time I was reading Kevin Kelly's _Cool Tools_ ($5 at Amazon, free at libgen.io) and found out about and read Tom Neale's _An island to oneself_ from that. Neale's book was among a list of stories of other wilderness dwellers which included Silvan Hart and Dick Proenneke. Sarah Marquis, Nicole Apelian are some survivalist women just for some balance.
Camp Nelson has a spring of bubbly water that is very good to drink. Then we hitched down into Porterville with a Sierra Club hiker we'd passed earlier that day. Then we hitched back up into the mountains to Balch Park first with a line technician from LA who funds a small ranch his wife runs and second with a supervisor of a Cal Fire prison crew. The line technician took pity on us and stopped to ask what we were doing, we weren't actually hitching at the time. We're lucky he stopped.
I realize I've forgotten two rides: one in the minivan of an ex-military woman on the way to Wofford Heights from Kernville, and another with a Hispanic forest service fire crew member and a co-worker from Clovis to Springville. It's always a small miracle when anyone stops. Not to disregard the dangers of hitching.
Then we walked into the south end of Sequoia NP. And down into Three Rivers. Then we walked back up into the park along a very overgrown trail where Andrea got a tick bite, I a bee sting, and both of us waded, nay bushwhacked, through miles of poison oak and other brush until 11 at night. I was trying to get to a high enough elevation to be out of the poison oak before camping, which we just about managed. Oddly, neither of us got poison oak. She never has, I believe. I often do. Correction: she says she got some inside her nose from that escapade. And I had mild whole-body puffiness the following day maybe from being coated in pollen from all the brush.
Andrea also reminded me we got a ride in the back of an old Jeep from a young (19 or 21?) almond, orange, and pear farmer and his girlfriend or date on the last stretch of dirt road before the Old Colony Mill bushwhack started. This guy had previously run a dairy farm with his father and brother but they had switched to tree crops a few years back. It sounded like he owned his own orchards and had bought out his father.
He was surprised I knew about the upside-down-umbrella-style almond tree shakers, which I'd seen in Spain--he was one of the first in the area to use those. These are tractors that approach a tree, grab the trunk, unfurl around the grabber something that looks like an upside-down umbrella, and then vigorously shake the tree trunk while the almonds fall into the umbrella which then funnels the almonds into a channel near the grabber leading to a hopper in the back of the tractor. The umbrella appendage then retracts and refurls, and the tractor goes to the next tree. I'm not sure actually whether the almonds go into the chute before or after the umbrella refurls. Check YouTube. The process takes less than three minutes per tree, maybe less than 60 seconds. Most other US almond growers somehow do it with two separate vehicles, a shaker and a collector somehow it sounded like.
We kicked back at Hume Lake for a bit after getting a ride a lot of the way from Wuksachi Village from Calissa—an ecstatic-to-be-out-of-the-city-for-the-weekend neuroscientist—who was paying off years of college debt doing something for some sort of birth control pharmaceutical or appliance company or nonprofit and Gabe, who maybe was a lawyer and had already paid off his. Andrea insisted we do laundry before hitching to wash off any poison oak before sitting in someone's car. That and showering we had done at Lodgepole. We enjoyed a golf cart tour of the Hume Lake Christian camp and free ice cream. I swam while listening to an audiobook for the first time since Goleta. This book was about about timing and effects of circadian rhythms (When: The Scientific Secrets of Perfect Timing. I don't really recommend it, but I find it interesting I remember what I was listening to when and where). We then walked to Grant Grove Village and left the park via the YMCA at Sequoia Lake.
We got a ride down to Clovis with a CHP officer who was once a wandering hippie-ish type and was now reading Race and Economics by Thomas Sowell. He pointed out where a death-by-cop stakeout had occurred a while back, drawing officers like flies. The ride up to Shaver Lake and some breakfast at a small cafe was with with Bruce, a founder of the Aryan Brotherhood, and Chula, his small rescue dog whose former abusive owner was the only one he still had it in for. I don't disbelieve the guy. What he had to say checked out with Wikipedia at any rate.
We eventually went north from Shaver Lake to Redinger Lake, and up Italian Bar Road to the exact center of California, near South Fork. Andrea's feet hurt so we hitched to North Fork, got a bus down to Madera, then Amtrak to Sacramento and stayed at her parents' for a bit. Then I walked up to South Lake Tahoe, and she rode up later with her family for the Fourth of July.
On the way back south, we visited her great-aunt in Concord and we visited Monterey. After a month and a half back in Goleta we went to Tennessee to visit my parents and sisters.
Aside from all that? We may have a place to live in the coming year thanks to the county housing authority and other help. I've figured out a good way of staying warm and dry during a SoCal winter in a hammock. I got to surf and windsurf for my first time on the west coast thanks to the local Excursion Club. Having made it to the southern hemisphere last winter I'm happy to be here with lots of darkness for a change. Darkness in which to be snug in my hammock and read. And so far there hasn't been any rain of oppressive duration. I'm a bit tired of wandering to be honest, though I did see $330 tickets one-way to Santiago for a while earlier in the year when I was looking.